patrick ball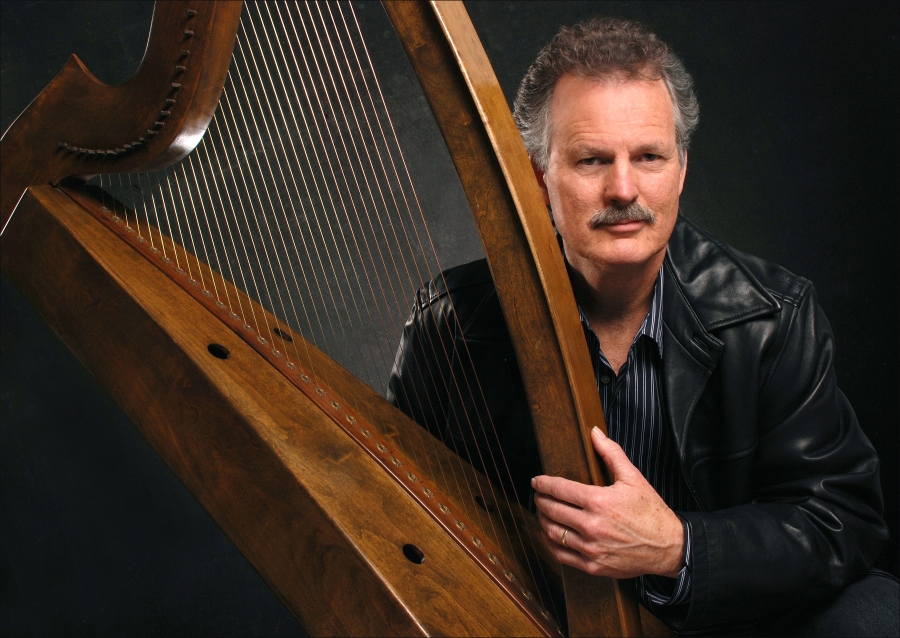 Wohnt an der Küste Nordkaliforniens und hat sich durch seine zahlreichen Alben und Konzerttourneen als Harfenist und Geschichtenerzähler weltweit einen Namen gemacht. Mit seinem außergewöhnlichen Instrument, einer 32-saitigen keltischen Harfe, nachgebaut von dem berühmten Harfenbauer Jay Witcher aus Maine, spürt er einfühlsam über die irische Klassik des blinden Harfenisten Carolan und der Volksmusik zu den keltischen Ursprüngen zurück.
"Is there anything sadder in this world of ours than poverty of words?" — an Irish storyteller
"This statement may seem to us today a curious one to make, as we can all immediately think of something infinitely more sad. Yet, the man who made it was not speaking lightly, nor was he speaking figuratively. He lived in an Ireland which was cruelly burdened by poverty and oppression, where sadnesses and deprivations were legion. Yet, to him the lack of words was an unimaginable loss. For in words, in stories nurtured and spoken, he not only found light and warmth, laughter and exaltation, he found the very continuation of his culture, of his land, of himself."
—Patrick Ball
Patrick Ball was born and raised in California and gave little thought to such things as where his ancestors came from. He went to school and supposed, when he thought about it at all, that he would one day be a lawyer, like his father. But he studied music from time to time and over the years developed a nodding acquaintance with the piano and the guitar. At university he continued his flirtatious relationship with music by playing the tin whistle, principally to annoy his roommate. But at this time he found that he was irresistibly drawn to words, to the music of words, to writers who made words sing, to writers from Ireland. Then, when he began to study history to fulfill his academic requirements, he was not surprised to find that it was the lyrical, turbulent history of Ireland that engaged him. So much so, in fact, that when his father died all his thoughts of law school died with him. He enrolled in graduate school and soon made his way to Ireland. There he fell in love with the eloquence and fire of the Irish oral tradition. There he fell in love with the Celtic harp. And there a few pieces of his life fell into place. For he came to know that marvelous unity of Irish words, music and history that would become his passion and, eventually, his livelihood.
Patrick returned to California, was awarded a Master's Degree in History by Dominican College, and soon discovered that jobs in the field of Irish scholarship were not to be had for love nor money. So after laboring in various unrewarding lines of work he set off hitchhiking around the country and finally fetched up at Penland School of Crafts in the Blue Ridge Mountains of North Carolina, where he lived for two years and worked as a groundsman. There he encountered a branch of that living oral tradition that had captivated him in Ireland. And there for him, among the Appalachian storytellers, his love of the spoken word was rekindled.
He now tours extensively throughout the United States and Canada, is considered one of the premier Celtic harpers and storytellers in the world today, and has recorded nine instrumental and three spoken word albums which have sold well over one-half million copies collectively and earned national awards in both the music and spoken word categories. Along with Celtic Harp and Story, his beguiling blend of music and spoken word concerts, Patrick has also written and currently performs two solo musical theater pieces: O'Carolan's Farewell to Music, which brings to the stage the legendary life, the turbulent times and the glorious music of Ireland's most celebrated and beloved musician, Turlough O'Carolan, and The Fine Beauty of the Island, a musical journey to Ireland's legendary Blasket Islands in search of a deeply haunting tune and the vanished islanders who played it.
Patrick has been awarded grants for his work by the Zellerbach Family Fund and the California Arts Council and is the recipient of the Circle of Excellence Award from the National Storytelling Association.
O'Carolan's Farewell to Music (the play)
"Hauntingly beautiful ballads and lilting storytelling...it might spring from the 17th century...but the play seems as current as the latest troubles in Belfast...Patrick Ball's acting is fine, his musicianship outstanding...a small gem."
Variety New York

"Richly theatrical...the spell he casts is hauntingly beautiful...Ball embodies his subject with uncanny realism...a gem of a show."
St. Petersburg Times Florida

An Irish Bard Plucks at Heartstrings
"... whenever Patrick Ball pulls his stool up to the harp, streams of silvery tunes glisten and shimmer. It's instant Irish nostalgia, even for a listener who has no particular connection to the country and its culture...Ball plays the pedalless Celtic harp with a deft, florid touch. The melodies are lovingly shaped and the intricate finger work gracefully phrased."
San Francisco Chronicle California

A Poet's Fond Stirring Farewell
"Ball is both a master storyteller and one of the world's leading Celtic harpists...he smoothly melds the two skills into an arresting oral biography of O'Carolan. The music is glowingly distinctive, lingering in the memory after the last note dies. Ball gives MacCabe's recollections a depth of emotion and a true sense of loss. Together the words and music create a moving portrait of O'Carolan."
The News Journal Wilmington, DE

Harp Takes Audience on Irish Time Travels
"The piece is performed wonderfully...the evening crackles...Ball is a master of the Celtic harp, a fascinating instrument that sounds at times like a harpsichord and at other times like bells, but always, beneath his hand, passionate and evocative of the undaunted Irish spirit and the emotional pull of the Irish landscape. Ball is also a skillful actor with an understated style and a gift for both storytelling and characterization which gently brings alive MacCabe, O'Carolan and the various characters they encounter..."It is a fantastic respite from standard holiday fare, yet at the same time gives you the sort of emotional lift so enjoyable during the season. O'Carolan's Farewell to Music makes an excellent early Christmas present."
Contra Costa Times Contra Costa County, CA

A Fond Farewell / Salute to Celtic Harpist Tugs At Heartstrings
"An engaging tale...beautifully realized...soothing, thrilling and haunting...Ball has a warm stage presence, and his storytelling skills are strong...But when Ball sits behind his brass-stringed harp and plays O'Carolan's music, that's when this show becomes something special...one glorious tune after another."
Oakland Tribune California

Emotional Adieu
"Patrick Ball, expert at the magic of music and words...is a world class harper and a fine actor, with a storyteller's sharply honed timing and delight in a good joke...lively, witty and touching...O'Carolan's Farewell is tightly woven like fine Irish tweed, where the warp is a human relationship and the weft is music, interlaced with threads of history and colorings of humor...If any part of your heart and/or ancestry connects with the shamrock shore, this play is a must-see."
Pacific Sun Marin County, CA

Simple Pleasures
"Riverdance, step aside. Frank McCourt, enough of you already, and your brother, too. It's time to make room for Patrick Ball. O'Carolan's Farewell to Music plucks a note as simple and candid as the fireside bond of oral tradition -- and that's exactly the magic...the solo performance weaves an irresistible Gaelic narrative, filled with laughter and mischief, politics and conflict...a rare performance...an inspired production...the music is spiritual and effortless."
Press Democrat Santa Rosa, CA

A Gem of a Show About the Emerald Isle
"Between his music and his storytelling, Ball's performance is a tour de force. O'Carolan's music is played with wonderful flourish...he brings O'Carolan's...songs to full and sophisticated life....The script is part history lesson and part outright hoot. The result is an evening that's informative, inspiring, amusing and, above all, entertaining. It's so well presented and so well paced that you're likely to be reluctant to bid farewell to "O'Carolan's Farewell to Music."
Daily Local NewsWestchester, PA

"Patrick Ball's able solo performance summons up multiple characters and the spirit of an era, but it's in his brilliant playing of the rare wire-strung Celtic harp that the evening springs to life. The script...richly contextualizes the music...inspired."
San Francisco Bay Guardian California

"Musically, the show is impeccable. Ball plays with a passion for the music that is only matched by his skill...Ball is also a gifted storyteller...As MacCabe, Ball tells the story with warmth and humor. And then he sits at the harp, and O'Carolan speaks for himself."
Arcade Suburban Publications PA, NJ

Celtic Harp and Story (the concert)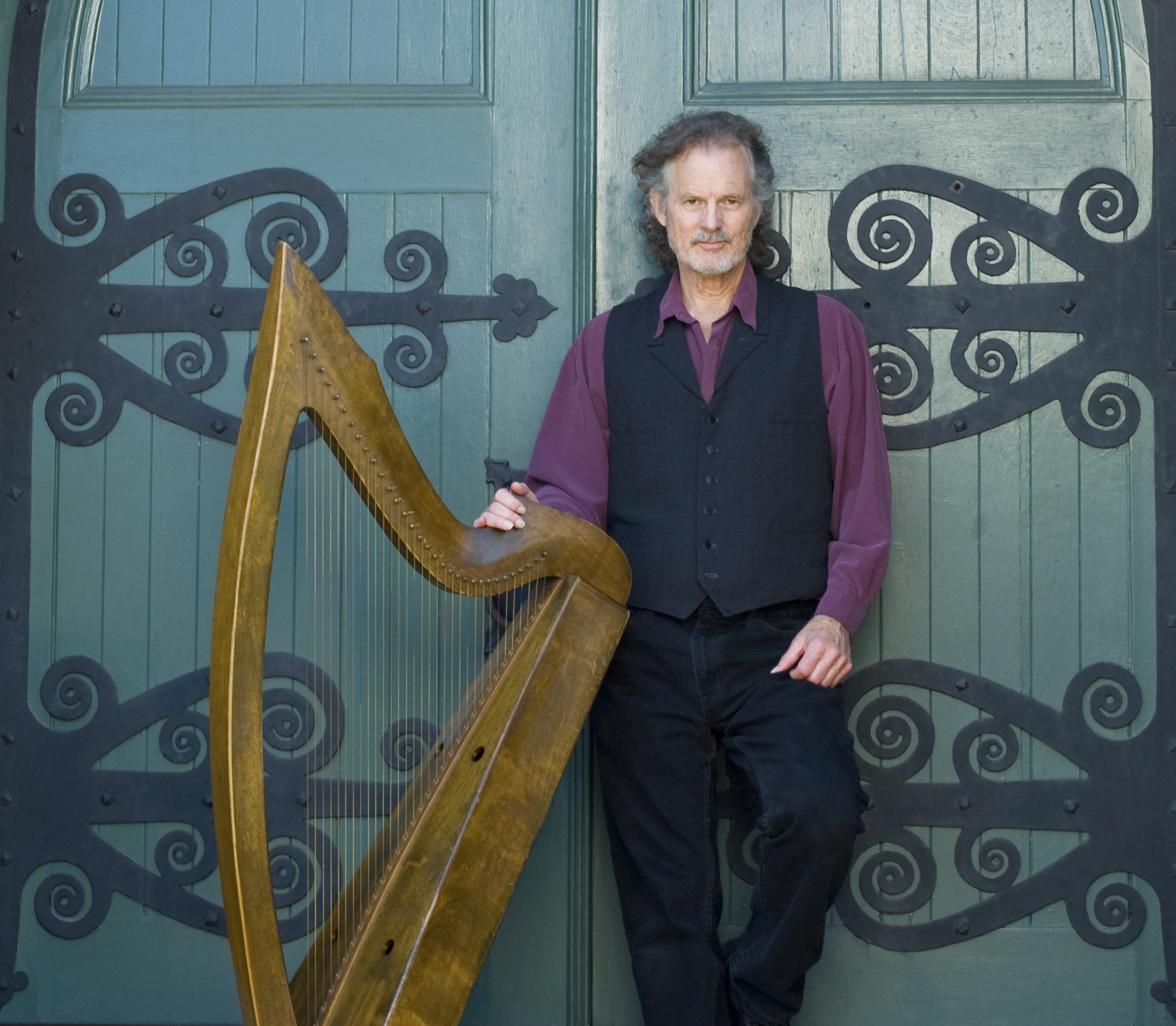 "It's rare that we will feature a performer on our fine performances season for two consecutive years, but then Patrick is a rare artist...The audience was entranced by his harp playing, amused by his storytelling. Patrick is a grand man who puts on a great show. A warm and magical performance."
APAP Report Humboldt State University

"Patrick Ball conjured some Druid magic...weaving words and music into a spellbinding program."
The Blade Toledo, OH

"The SRO audience loved Mr. Ball's performance, asking when we will be bringing him back. Mr. Ball was a delight to work with,very professional and he is superb at captivating an audience."
APAP Report Arizona State University
"An American master of the Irish instrument, a peripatetic modern day bard, combining tale-telling, history and music into a seamless compound that reaches all ages and types of listeners."
San Francisco Chronicle California

"His concert consisted of ethereally gorgeous instrumental music and colorful stories. The music, like that of many Windham Hill artists, painted a feeling with delicate wisps of sound. But there is something special about the sound of the harp and the sight of someone playing it. His renditions of musical antiquities were almost a spiritual experience."
The Courier Journal Louisville, KY

"Ball weaves a pleasant skein of shanachie tales with a fair bit of wit, but it's just so much string for his true jewels, the short harp solos. These extremely delicate and gracefully measured melodies shone like constellations over a moonless heath."
The Boston Globe

"One of the premier interpreters of O'Carolan's music today."
Los Angeles Times

"Patrick Ball...casts a haunting spell... a graceful and often bittersweet evocation of the past."
Washington Post

"Patrick Ball is the finest interpreter of traditional Celtic music I have ever heard in my professional career. His storytelling is wonderful and his entire program combines storytelling and Celtic harp tunes seamlessly. He is a delightful entertainer."
APAP Event Report Barbara A. Harris, Caffe Lena

"Patrick Ball is a real artist; perhaps a profound one."
Grand Rapids Press Michigan

"It's some of the most interesting a heart-stoppingly gorgeous music to come along in some time...Ball plays with skill and feeling, weaving intricate textures and rendering the centuries-old material compelling from the first note...The harp itself sounds so glorious that it's quite understandable why it's reputed to be the instrument of choice among the angels."
The California Music Magazine Los Angeles

"The leading practitioner of O'Carolan's art is Patrick Ball. He systematically explores O'Carolan's prolific output, as well as branching out to other traditions in his laudable and ambitious search of a by-gone Celtic past."
Tower Records Pulse!

"Patrick Ball plays the ancient, wire-strung Celtic harp with a sense of magic and refinement that takes you back to a time when music was more direct and powerful in its simplicity."
CD Review

"The show is a rare treat."
The Arcata Union Arcata, CA (Humboldt State University concert)