sarah hopkins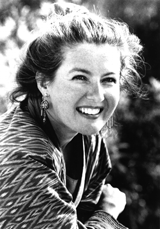 Sarah Hopkins is undoubtedly one of Australia's most unique composers, highly acclaimed for her visionary "music which sounds like the very essence of the universe." (
Phil Brown
, Oz Arts magazine)
Sarah composes solo, ensemble, and choral music of a holistic nature which draws upon the natural beauty of the cello, voice and whirly instruments (plastic tubes which play harmonics when spiralled overhead).
Her unique style of playing cello embraces many new and ancient sounds including musical bird calls, deep earthy drones, didgeridoo bowing and bowed harmonics. Vocally she specialises in harmonic overtone singing which she often uses in combination with her cello.
Currently living in Brisbane, Sarah tours both nationally and internationally, performing her own original music, running workshops in Harmonic Singing & Holistic Music and working as an artist-in-residence. Over the past years she has represented Australia at many prestigious international events.
Recent highlights include several international cultural relations performance tours to the Philippines, Thailand, Malaysia, Korea and Germany, performing for the opening ceremony of the 4th World Athletics Championships in Stuttgart to an audience of over 50,000 people; having her highly acclaimed choral work Past Life Melodies performed in the Sydney Opera House by a choir of 800 voices, play having her Sky Song music, co-composed with Alan Lamb, featured on Australia's Olympic 2000 bid CD.
Recordings by Sarah Hopkins: :
| | |
| --- | --- |
| Australia: Sound of the Earth (with David Hudson and Steve Roach) | 17071-2 |
Listen within...
Follow your heart
& Live your dreams

As a composer-performer, my desire is to create music which resonates with the space and energy of the Australian landscape as well as the inner landscape of the human psyche. I want my music to move and inspire people and reconnect them with the heart of Life.
I compose solo, ensemble, and choral music of a holistic nature which draws upon the natural beauty of string instruments, voices, bells and whirly instruments. My compostions grow from "hands on" experience with the instruments: listening to them, playing them and developing the music in accord with the instrument's own potentiality, so that the essence of each instrument speaks forth.
For the past ten years or so I've been describing my music as Holistic Music because I'm consciously wanting to acknowledge and celebrate all aspects of our being (physical, mental, emotional, and spiritual) through my music. I believe that it's time to reclaim and celebrate many of life's almost forgotten simple yet profound truths and to amplify positive life force whenever and wherever we are able to.
"Sarah Hopkins has the rare gift of being able to conjure music which sounds like the very essence of the universe. Whether she's summoning forth this music from her cello with long, deep draws of her bow or with her primal vocals, the result is, at first, haunting and later, mystically calming. When one becomes attuned to what's going on, it can become an experience that's part of a journey to the centre of being." Phil Brown, Oz Arts Magazine, 1992
"Sarah is an individual whose music activates change from the deepest level of the interior world. She is an outstanding example of an Australian artist who has no problem with embracing art in its total space/temporal context, no problems with moving between theatre and meditation, or drawing and dancing and making poetry, or singing and playing her cello as if the two activities were resonating from the one instrument." Sally Macarthur, Sounds Australian Journal, 1989
"Hopkins is an exquisite musician who creates an enormous sound out of that most soulful of instruments, the cello." Andrea Borsay, Dance Australia, 1988
"As Sarah played, tingles ran down my spine; her music recalled emotions that I have felt while sitting high in the mountains at night, listening to the wind wail through jumbled blocks of granite. I felt alone in the universe, but at peace." Paul Doherty, Exploratorium Quarterly, San Francisco, 1990
"Words cannot do justice to Sarah Hopkins as she harnesses haunting sounds from a collection of corrugated plastic tubes to produce a stirring musical experience." Nicole Harkins, Northside Chronicle, Queensland, 1991
"In an open, airy room on the fourth floor of the Metro Arts community centre in Brisbane, Sarah began to swing the tubing slow patterns above her and created a sweet music that was so simple and yet so ecstatic that to hear it and not break into a joyful smile would certainly have been difficult. Particularly with the musician herself beaming in front of you like a kind of angelic dervish. There was no doubt in my mind that she had something remarkable going for her." Phil Brown, Oz Arts Magazine, 1992
"In Cello Chi, accompanying herself with the elaborate hand gestures of Tai Chi, she sang overtones above a drone, Tibetan Buddhist style, and played the cello in the same way. This kind of reverse virtuousity posits the cello not as a tool to be mastered, but as a natural resource to be developed in accord with its own potentiality; a model for an ecology, in other words. Hopkins vividly communcates a holistic, non-European world view. It was impossible to watch Cello Chi without entertaining an alternate to the physical world." Kyle Gann, The Village Voice, New York, 1988