Nikolaus Lahusen (1960–2005) on himself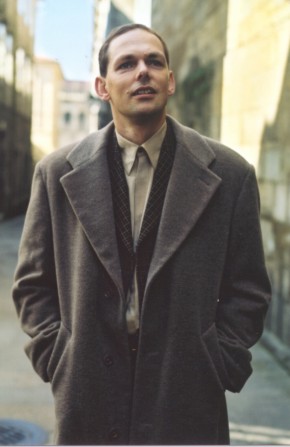 "The grand piano has been part of my life since I was 6 when my father sold an inherited vineyard and bought a Steinway. Since I was brought up in Mexico, a place where children enjoy a happy childhood, my urge to play the piano was purely motivated by my enjoyment of playing. My father taught me the essentials and soon I was playing anything that fell into my hands, completely self-taught it has to be said. My first passion to begin with was jazz which brought me into contact with an excellent jazz pianist at the age of 13 although I understood little of what he tried to teach me... I am willing to admit though that I preferred playing soccer and all the other things children do in Mexico City to piano-playing...
"Then at the age of 14 came the upheaval of the move to Germany, a country foreign to me, which forced me to leave behind my friends (and first girlfriends). When, after two months, the container arrived from Mexico and the grand piano was unpacked, it's hard for anyone to imagine what this meant to me: my salvation! From that day on the piano and music became my greatest pleasures and friends. I spent every available opportunity at the piano where I found everything thatwas lacking in an alien environment and in which I found someone to tell all my troubles and sadness but also my joy. My loneliness had discovered a partner! This intimate relationship has remained to the present day and has moved mountains: my youth was not one as a child prodigy, nor did I have ambitious parents who "directed" me toward music at a young age. In fact I began to play the piano late, was a happy child, and plunged into piano-playing with gusto at the age of 14, leading me on a path that has been paved with joy and enthusiasm.
"I suspect that the feeling of belonging to two such different cultures led to a sense of homelessness which at the same time gave me a free and open—minded view of the world from which I've constantly profited in my musical career: many of the "experiments" I've indulged in en route can be attributed to that approach to life. When playing Schubert on a Hammerflügel (13195-2) or exploring the world of Ciurlionis (13184-2) or the Orff-Schulwerk (13106-2), I need to learn something akin to a new language in each case. Such challenges are a decisive factor in my perception of myself as a musician, and it is to them that I owe many unique moments of my career.
"The recording, Franz Schubert: Sonata B Flat Major D 960 / 3 Klavierstücke D 946, has a very personal note for me: in 1998 I became seriously ill. I had to cancel my concerts until further notice, and deliver myself instead into the hands of top doctors. The proximity to death, the experience of extreme situations but also the joy of being allowed to go on living are dimensions that have deeply influenced my life. And here again the piano became my best therapist. I found Schubert's world of music extremely therapeutic, and indeed still do: when I start playing these works, I immerse myself into a deeper inner world, experience a whole range of feelings and afterwards emerge a cleansed, released and liberated person."
On Whitsunday, May 15th, 2005, Nikolaus Lahusen passed away after having fought cancer since 1998. Because of his illness, he went through two periods where he was unable to perform. "But his attitude, " company president Eckart Rahn says, "was always forward-looking and positive. He added much to my life and work."
Nikolaus Lahusen über sich selbst
"Der Flügel gehört seit meinem sechsten Lebensjahr in mein Leben, als mein Vater einen geerbten Weinberg verkaufte und sich einen alten Steinway dafür kaufte. Da ich in Mexiko aufwuchs – ein Land, in dem Kinder ein glückliches Leben genießen – war mein Bedürfniss selber Klavier zu lernen ausschließlich von der Lust am Spielen geprägt. Mein Vater brachte mir die nötigsten Dinge bei, so daß ich bald alles spielte was mir in die Quere kam – allerdings als absoluter Autodidakt. Dann war zunächst Jazz meine Leidenschaft, was mich mit 13 zu einem wunderbaren Jazz—Pianisten brachte – bei dem ich allerdings kaum was verstand... Ich gestehe aber gerne ein, daß mir das Fußball—Spielen und alle anderen Dinge, die Kinder gerne tun, in Mexico—City viel mehr Spaß machten als Klavier—Spielen...
Dann kam mit 14 der Umzug nach Deutschland, ein Land welches mir fremd war und welches mich zwang alle Freunde (und erste Freundinnen) zurückzulassen. Als nach 2 Monaten der Container aus Mexiko kam und der Flügel ausgepackt wurde, kann sich keiner vorstellen, was dies für mich bedeutete: die Rettung! Ab diesem Tag wurden das Klavier und die Musik zu meinen größten Freuden und zu meinen besten Freunden. Jede freie Minute fand man mich am Klavier, wo ich alles fand, was ich in fremder Umgebung vermißte, und wo ich jemanden gefunden hatte, dem ich all meine Sorgen, Leiden aber auch Freuden erzählen konnte. Meine Einsamkeit fand einen Partner. Diese innige Beziehung ist bis auf den heutigen Tag geblieben, und sie hat Berge versetzt: ich hatte weder eine Wunderkind—Jugend, noch ehrgeizige Eltern, die mich als Kind schon zur Musik "brachten", ich begann eigentlich spät Klavier zu spielen, war ein glückliches Kind, habe mich dann ab dem 14. Lebensjahr voll ins Klavier gestürzt und dabei einen Weg gefunden, der von Freude und Begeisterung geprägt ist. Ich glaube, daß durch die beiden unterschiedlichen Kulturen, denen ich mich verbunden fühle, eine Heimatlosigkeit entstand, die mir aber gleichzeitig eine freie und weltoffene Sicht mitgab, von der ich in der Musik ständig zehre: meine vielen "Experimente" auf meinem Weg verdanke ich ihr. Wenn ich Schubert auf dem Hammerflügel spielen, oder Ciurlionis´ Welt ergründen will, muß ich jeweils quasi eine neue Sprache lernen. Diese Herausforderungen sind ein entscheidender Bestandteil meines Selbstverständnisses als Musiker, und ihnen verdanke ich viele einmalige Momente in meiner Karriere.
Die hier vorliegende Aufnahme hat eine sehr persönliche Ebene: 1998 erkrankte ich schwer, mußte meine Konzerte bis auf weiteres absagen, und begab mich für ein Jahr in die Hände von großartigen Ärzten. Die Nähe zum Tod, das Erleben von Extremsituationen, aber auch das Glück wieder weiter leben zu dürfen, sind Dimensionen, die mein Leben tief geprägt haben. Auch hier wurde das Klavier zu meinem besten Therapeuten. Die Welt der Schubertschen Musik habe ich als zutiefst heilend empfunden und empfinde es auch heute noch so: wenn ich dieses Werk beginne, versinke ich in eine tiefere, innere Welt, durchlebe alle Ebenen und tauche am Ende als gereinigter, erlöster und befreiter Mensch wieder auf."