frank perry on himself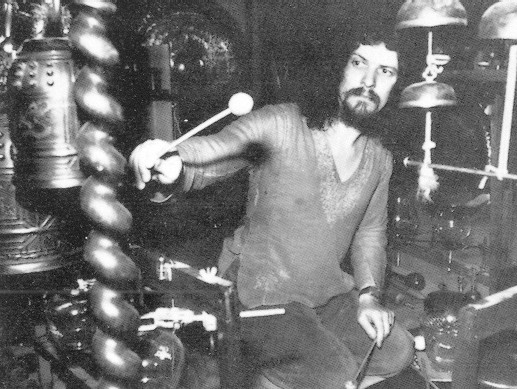 My musical career began during my last term of school April '64. I was in a boys school in St John's Wood, London with between 800 and 1,000 other boys, one of three with long hair, and wondering what career to choose. This nonconformity resonated with the Rolling Stones, who were just happening, so music became a possible course. I'd initially thought of playing guitar but another boy said you needed to know 3,000 chords—and being as I couldn't remember all of 'the Scouts honour', I immediately lost heart. That day I heard another boy 'drumming' on his desk. It was the tune Wipe Out from the charts. He showed me how to do it, along with two standard Rock rhythms. I could do that soon after getting home so I returned the next day asking for more. He sent me to his mentor who showed me Jazz playing—hand independence. After half an hour or so, back at home on the armchair, I could do that too. So I went and asked for more. He couldn't believe that I could do it, so he asked me to show him. He replied by saying "You'd better get some sticks. It took me five years to get to that stage!" That is the sum total of all musical education I have ever received.
I soon joined a Rhythm & Blues band, which I called The Abstract Sounds. Mid '66 I joined a Chicago Blues band called Black Cat Bones, which featured the legendary Paul Kossoff (of Free fame & Back Street Crawler etc) on lead guitar. I was too 'jazzy' for the band and by February of '68 was asked to leave, having failed to supply the simplest of Rock beats. I moved straight into Jazz and began playing Free-Form Group Improvisation as that was happening in London during the late 60s. Whilst playing with all the top improvisers (including Chris McGregor, Dudu Pukwana, Mike Osborne etc) I formed a number of groups:—trios of my own featuring Evan Parker (saxophones) and Derek Bailey (guitars) and co–founded Ovary Lodge with Keith Tippett (pianist) and Balance with Ian Brighton (guitar). Ovary Lodge recorded two albums for RCA/Victor whilst Balance recorded one for Incus (Label run by Derek Bailey & Evan Parker).
From 1968 I began to collect suitable percussion instruments for my intuitive work in this field. There are too many stories to tell of how some of these instruments came. Sometimes it was 'voices' in my head (from my spirit guides) telling me where to go to buy ancient Japanese Temple bells, etc, yet other times it was visiting Tibetan masters and yogis bringing extremely rare sacred ritual instruments for me.
In 1971 I began my solo career wherein I could more thoroughly explore my spiritual objectives through my creativity—and use these sacred instruments. During the 70s I released three solo albums and in 1980 I recorded Deep Peace originally for David Toop's !Quartz label. Eckart Rahn of Celestial Harmonies had contacted Dave Lawrence (Nada Records) to stock the Tibetan Bells CDs on his label but was told that Dave Lawrence had something better. Very quickly, Eckart bought the rights for Deep Peace and this was my first solo album on his label (released in 1981) followed in 1983 by New Atlantis (sponsored by Eckart Rahn and recorded at John Hiseman's studio) which featured Petalumines (instruments invented and built by myself) and another track solely for my sacred Tibetan ritual instruments. In 1986 I hired The White Temple (of The White Eagle Lodge) for five days and recorded enough material for 10 albums. This resulted in a Library album titled Temple of the Stars released on KPM of EMI and commercially released by Eckart Rahn on Celestial Harmonies as Zodiac. This was music intended to accompany 12 paintings by the Russian artist Nicholas Roerich (1874 – 1947) linked by myself to the Cycle of the 12 Signs of the Zodiac. I now have around 60 releases to date.