gonzalo vargas/inkuyo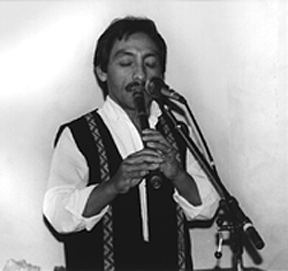 Die Gruppe produzierte ihre Musik - bisher sechs CDs - in wechselnden Besetzungen, mal als Trio, mal als Quartett mit Gastmusikern. Inkuyo-Gründer und Leiter Gonzalo Vargas sorgte bei aller Vielfalt des künstlerischen Ausdrucks für einen wiedererkennbaren Stil. Es ist die besondere Mischung aus kaum bekannter schamanischer (Inka-) Tradition (mit Naturgeräuschen), populären Volksmelodien und Tänzen, zeitgenössischer politisch engagierter Lieder (Nueva Cancion) und eigenen Kompositionen. Vargas wurde in dem abgelegenen Dorf Tapajkari in Bolivien geboren. Angetrieben von dem Wunsch, die Musik seiner Vorfahren zu erforschen und weiterzuvermitteln, wurde er zum Virtuosen indianischer (Pan-) Flöten, spielte in vielen Musikgruppen seiner Heimat und brachte mit der Gruppe Sukay als einer der ersten Andenmusik nach Nordamerika.
An accomplished composer and arranger, internationally recognized virtuoso of pan–pipes and South American flutes Gonzalo Vargas is the founder of the group Inkuyo. Originally a quartet, now a trio, of accomplished musicians bring the ancient instruments and songs of the majestic Andean highlands and of their Incan heritage firmly into the 20th century. Inkuyo takes its name and inspiration from a remote mountain village in the heart of the Andes where the people live as their ancestors have lived for centuries, and where music is an integral part of daily life.
Gonzalo Vargas brings to the group his experiences growing up in the remote Andean village of Tapajkari, Bolivia, where he inherited a rich traditional musical knowledge. After playing with numerous groups in his native land, Vargas brought his passion to perform, study and teach his ancestral music to the United States and Canada. As one of the founders of Sukay, he has played a key role in introducing Andean music to this continent.
While Andean music has become increasingly popular on the international scene, there are few ensembles that can match Inkuyo's expertise, research, and range of music. Devoted to ancient and contemporary Andean music, Inkuyo uses dozens of traditional flutes, whistles, and pipes as well as traditional percussion and strings, to capture the spirit of Andean music.
Joining Vargas in the current Inkuyo line–up includes:
Argentinian guitarist Enrique Coria who for more than three decades has been performing classical, folk and dance music from South America. He has played on hundreds of different recordings with popular groups from Argentina, Chile, Uruguay, Bolivia and the United States. Jose Luis Reynolds, previously a featured guest artist, is the newest member of the group. From Bolivia, Reynolds is a master of the charango, bandurria and tipple.