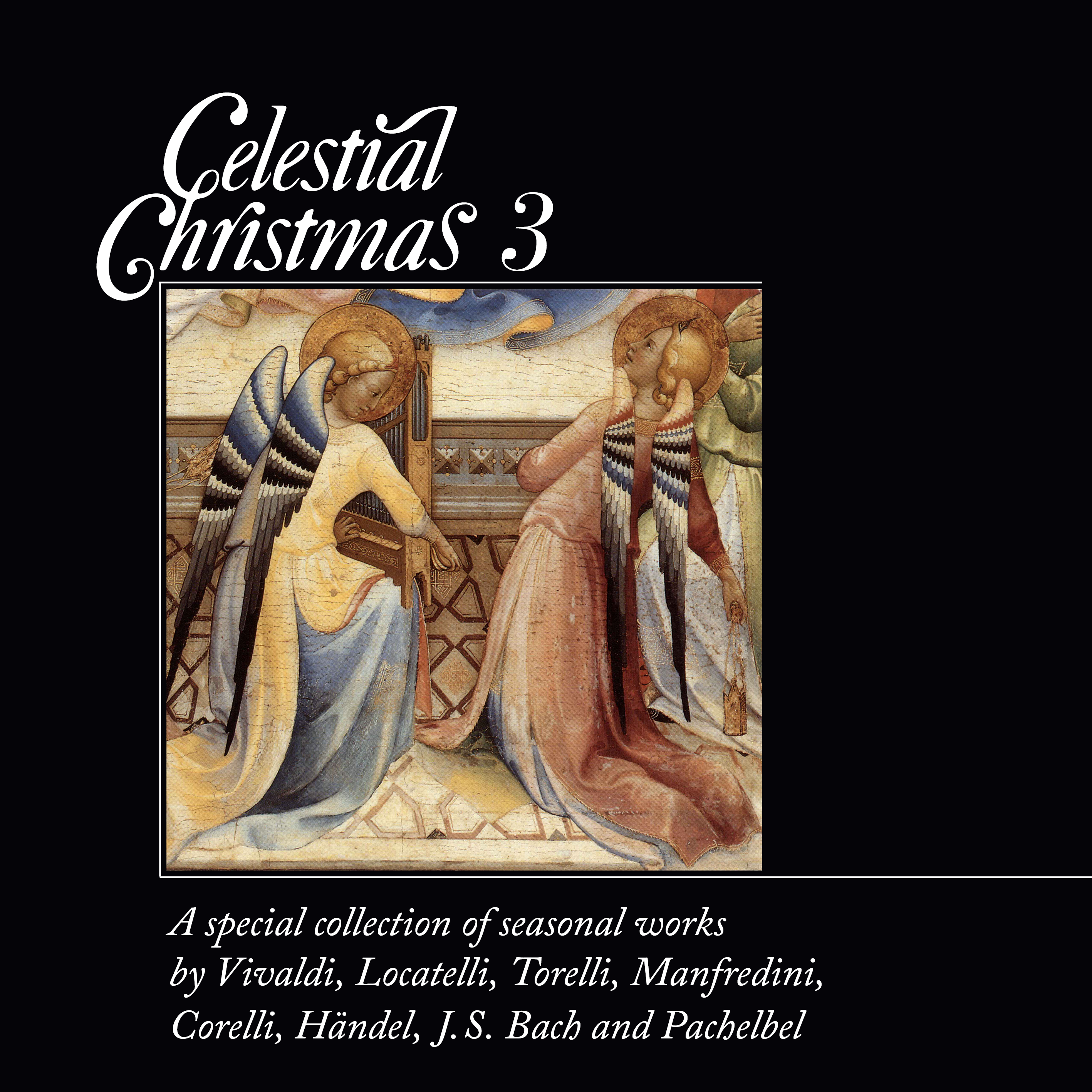 Fünf CDs mit europäischer Musik vom Mittelalter bis heute, die thematisch zu Weihnachten passt, gespielt und gesungen von weltbekannten Interpreten wie dem Concentus musicus, Alsfelder Vokalensemble, Worcester Cathedral Choir, Gustav Leonhardt, Franz Lehrndorfer u.a.
Corelli, Bach, Manfredini, Händel, Torelli, Pachelbel, Locatelli, Vivaldi - weihnachtliche Barockmusik, gespielt von I Solisti Di Duno, dirigiert von Antonio Pellegrino.
the project
This special collection of seasonal works includes over an hour of the most moving and beautiful Christmas compositions of Europe's Baroque era. The instrumental music of Celestial Christmas 3 is a fabulous addition to any listener's compilation of Christmas recordings.
Baroque instrumental music is distinguished by the all–pervasive basso continuo: an instrumental bass line played on a low melody instrument, with expressive harmonies created on keyboard, strings, or plucked instruments. Baroque music came to its pinnacle with the Italian and German composers of the seventeenth to mid–eighteenth centuries. Celestial Christmas 3 includes eight of those pre–eminent composers.
Four Italian composers, Arcangelo Corelli, Francesco Maria Manfredini, Giuseppe Torelli and Pietro Locatelli, each provide a glorious Christmas Concerto. These are interspersed with three shorter pieces from German composers Johann Sebastian Bach, Georg Friedrich Handel and Johann Pachelbel. The spectacular montage comes to a grand conclusion with Antonio Vivaldi's stunning Winter from The Four Seasons.
Each of the pieces is tremendously emotional; together, they are powerfully stirring. Even though the composers intended them as Christmas music, most listeners would not want to limit Celestial Christmas 3 to that season alone. Not only is the music itself gloriously gratifying, but the European orchestra and its conductor perform each piece with remarkable virtuosity.
This is the third in this series of Christmas recordings released by Celestial Harmonies, each offering a unique contribution to the joy of the Christmas season.
tracklist
| | | |
| --- | --- | --- |
| | Concerto Grosso in G Minor Op. 6 No. 8 »Christmas Concerto« by Arcangelo Corelli | |
| 1 | Vivace-Grave | 1'22" |
| 2 | Allegro | 2'06" |
| 3 | Adagio-Allegro-Adagio | 3'37" |
| 4 | Vivace | 1'14" |
| 5 | Allegro | 2'04" |
| 6 | Pastorale | 4'16" |
| 7 | Sinfonia from Christmas Oratorio BWV 248 by Johann Sebastian Bach | 6'53" |
| | Concerto Grosso in C Major Op. 3 No. 12 »Christmas Concerto« By Francesco Maria Manfredini | |
| 8 | Largo | 4'37" |
| 9 | Largo | 2'01" |
| 10 | Allegro | 2'27" |
| 11 | Pastoral Symphony »Pifa« from The Messiah by Georg Friedrich Handel | 3'05" |
| | Concerto Grosso in D Minor Op. 8 No. 12 »Christmas Concerto« by Giuseppe Torelli | |
| 12 | Grave-Vivace | 2'17" |
| 13 | Largo | 2'30" |
| 14 | Vivace | 1'33" |
| 15 | Canon by Johann Pachelbel | 4'44" |
| | Concerto Grosso in F Minor Op. 1 No. 8 »Christmas Concerto« by Pietro Locatelli | |
| 16 | Largo-Grave-Vivace | 3'17" |
| 17 | Grave | 1'51" |
| 18 | Largo-Andante | 3'33" |
| 19 | Andante | 1'48" |
| 20 | Pastorale | 4'00" |
| | Winter from The Four Seasons Op. 8 No. 4 by Antonio Vivaldi | |
| 21 | Allegro non molto | 3'25" |
| 22 | Largo | 2'22" |
| 23 | Allegro | 3'06" |
| | Total Time: | 69'11" |