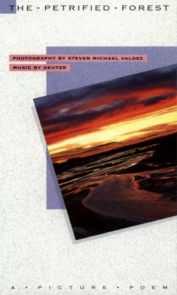 the project
The Petrified Forest, is a journey through the sights and sounds of a land full of wonder. Its creators purposefully veered far from the traditional narrative travelogue, wishing instead to give the viewer a moving and emotional experience. The deep feelings evoked by The Petrified Forest are revealed in the artful blending of soul-moving music and stunning pictures.

The video captures scenes virtually inaccessible to most visitors: sunrises, sunsets, moonrises, and virgin snow after a winter storm. The viewer can also experience the changing of the seasons, rarely seen wildlife, and the unusual sight of a river flowing through the desert highlands. This picture poem allows an understanding of The Petrified Forest that comes from the heart and soul, as well as the mind.
the artist
During the time video photographer, Steven Michael Valdez worked as a television news photographer for NBC stations in Tucson and Phoenix, he was inspired to create videos reflecting the rugged face of nature in Arizona. In these years, he developed a sophisticated ability to merge music with his pictures, elevating both art forms by their symbiotic blending.

Deuter, who has been recording for several decades, is a pioneer of new age music. He combines traditional acoustic instruments such as the flute and guitar with sophisticated synthesizers and the sounds of nature recorded in the wild. His music is especially suited to The Petrified Forest, at times light and spontaneous, other times almost brooding. The beauty of the Southwest inspired much of his music, which reflects so well the harmony of this mysterious land. His music will bring the listener to a space of meditation, attuned with nature. Certainly, this is the aim of the The Petrified Forest.