company history
---
<!TR VALIGN=TOP><!TD><!/TD> <!TD ALIGN="CENTER" WIDTH="300">
it all began with an open door...
<!/TD> <!/TR><!/TABLE>
Eckart Rahn realized early on that he wanted a life in music. But the prospects for a young man from a small town in Germany, with no money and no formal education, were bleak, to put it mildly. "I didn't even come from any musical background," Rahn explains. "There was no music in our house, and no money for music." Growing up in the small university town of Marburg, Rahn was one of those typical lost youths of the early 60s—unhappy in school, unenthused about the local job market, and uncertain about what kind of future he actually wanted. That all changed on a hot summer day when Rahn was fifteen. "I was walking past a Marburg record shop," he recalls; "and because it was so hot they had their door open, and I could hear the record playing inside. It was
The Sonny Rollins Trio Live at the Village Vanguard
on Blue Note. I had never heard anything like it." The impact was immediate: Rahn bought the record. "I didn't even own a turntable, but I had to have that LP."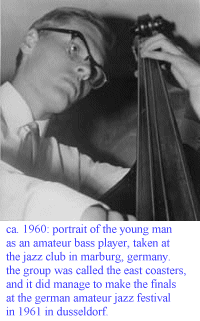 Almost immediately, the young Eckart Rahn set out to become a jazz bassist. He bought a used Kay bass from an airport security guard who happened to be a retired bassist from a nearby opera house, and spent much of the next four years trying to learn how to master the instrument. "I dropped out of high school in 1963," Rahn continues, "and got a job at the Marburg City Theater. This was a turning point, because I was a stagehand, did work as an extra, and operated the tape for the incidental music." He found the tape operation to be another sort of open door. When a production of Shaw's Caesar and Cleopatra was mounted, Rahn seized the opportunity to provide incidental music consisting of carefully faded excerpts from Jimmy Giuffre's orchestral third stream work Pharaoh. "It was," he says, "my first major accomplishment in the music business."

Rahn's tape accompaniment was well received, and the director of the theater promptly rewarded him by firing him. "I was devastated," he recalls. "He said they did not believe it proper to hire a dropout. So I took a train to Cologne, which at that time was the music capital of Germany." Cologne boasted an internationally famed electronic music studio, numerous jazz clubs, and a new radio station, called Deutsche Welle. Eckart Rahn became the index card filer in Deutsche Welle's music library. The job lacked glamour, but as Rahn says, "I got my musical education there. It was a worldwide service, so they were constantly playing music from all over the world."

During the next three and a half years, he taught himself about Beethoven and Stravinsky, and about African music, Indian ragas and American spirituals. "Each weekend, I would take a briefcase full of LPs home and tape them on my Grundig—at the risk of losing my job."

Soon editorial staff were seeking musical advice from the young library clerk. "The producer of an English-language program wanted to do a program on Spirituals for Easter, and she needed help. So I helped her collect some music, and she said, well, could you write the manuscript? Yes, I said. But can you read it too? Yes, I said. Of course, I had never done anything of the sort before. But that was not going to stop me."

In 1966, Eckart Rahn made his first step toward what would become his life's work. Not surprisingly, it was a jazz production, although even at this early stage, he found himself working at the edge of the genre. Rahn put the Yugoslavian musician Dusko Goykovich together with an ensemble that included the great jazz pianist Mal Waldron, among others. The result was a project called Swinging Macedonia, produced simply from a love of the music and without any commitment from a record company. Eventually, the German Philips label agreed to release the album within its 'twen' series, but at the time, the record represented quite a personal risk. In fact, Rahn had to borrow money from friends to complete the recording and to actually get the tape out of the recording studio.

Eventually, Rahn grew disillusioned with the bureaucracy and the pre-packaged, prerecorded nature of Deutsche Welle's programming. He landed a job at a small publishing house in Munich, where he learned the basics of music publishing and administration. The music industry as a whole was a closed door. Undeterred, Rahn struck out on his own in April of 1968. With-out any funding or formal education in the field, he began doing music copyright administration. "It really only required a willingness to do the paperwork," he recalls. He found himself drawn to the sound of English blues and a trip to London revealed that there was little interest within the industry; rock's explosive popularity had marginalized virtually every other style. "So I was able to build a formidable catalogue of British blues, including the music of the Immediate and Blue Horizon labels—early Savoy Brown, Fleetwood Mac, Small Faces, Jimmy Page, etc."

Between 1968 and 1972, Rahn was allied with artists ranging from Jose Feliciano to Leon Russell, doing copyright administration and music publishing for popular groups like Mountain, Mark-Almond and Loggins & Messina. This brought the fledgling business a good income, but Rahn's work was confined to Germany, still a secondary market in the music world. "It was impossible to do international work from Germany," Rahn points out; "German music just didn't travel well. The German music industry consisted either of Anglo-dominated rock imitations or local singers doing silly pop songs, or traditional brass music, much of which was dreadful." The connection between the German language and contemporary music had been largely severed after 1933 with the dissolution of the famed Kurt Weill/Bertold Brecht collaboration. "No one picked up the trail and established a new direction for the German language."

Nonetheless, there were exceptions. "At that point, ECM was a small jazz label called JAPO owned by its founders, an appliance dealer with a love for jazz, and the editor of a catalogue of jazz recordings, and Mal Waldron began recording his first LPs for Enja and ECM Records," Rahn says. Waldron, of course, was on the scene because Rahn had brought him there for the Goykovich sessions. And in the middle of 1969, Eckart Rahn began his own contribution to the burgeoning music scene in Munich: Kuckuck Schallplatten. In fact, he recalls, it was the industry's inability to keep up with the new developments in music that opened the door. "The late Hermann Zentgraf was head of A&R (artist and repertoire) for the German Philips label, and he brought me the band Ihre Kinder. He said, we can't do justice by them." Rahn worked with Ihre Kinder on their first LP, released by Philips. Then came their second LP, on Rahn's own label, with distribution by the worldwide record giant Deutsche Grammophon. Ihre Kinder's founder and main singer-songwriter, Sonny Hennig, managed to create an entirely new approach to writing and singing lyrics in German; any number of German artists have since benefitted from his pioneering work. Then, "A high-ranking Austrian executive at DG, Oskar Drechsler, called and said, look, I don't know what you know, but I know you know something, and I want you to do it for us. That was the real launch of Kuckuck."

Rahn chose the German word for cuckoo as the name of his new record venture—an appropriate name, given the young company's status as a sort of orphaned step-child growing amidst the established ones. "I thought my first deal with DG was extravagant," he chuckles. "Of course I didn't know how much it really cost to make records." He soon found out, and soon learned some of the other hard facts of life in the record business. In 1974, Drechsler was promoted out of his position and the cuckoo was kicked out of the nest. "We had no distribution, a small catalogue, and we were broke. I looked for another deal but everyone from A&M to Virgin turned me down."

Rahn spent the mid-70s representing artists and working in copyright administration to keep Kuckuck alive. He had a hand in Cecil Taylor's sextet recordings for New World Records, and made business and record deals for Gil Evans, Ornette Coleman, Dexter Gordon, Randy Weston, Woody Shaw and Larry Coryell. He was largely responsible for the appearance of one of Taylor's most acclaimed solo performances, Indent, on LP—the tapes were saved and restored by Rahn. Taylor returned the favor by introducing the young producer to the iconoclastic keyboardist Friedrich Gulda, whose forward-looking album GEGENWART (19003-2) Rahn produced in 1976. Since 1971, the young German instrumentalist Georg Deuter had come to Rahn's attention. By 1976 Deuter's Asian-inspired musical meditations developed a small but enthusiastic following, and helped Kuckuck crack the American market.

In 1979 Rahn discovered the magic of a new kind of contemporary music which was beginning to emerge in Brazil. The results of several long trips to Rio de Janeiro and Sao Paulo can still be heard on the Black Sun label, which was formed to publish the music of important musicians such as Egberto Gismonti, Marcio Montarroyos, Sérgio Dias and Azymuth among others.

"By the late 1970s, only three American distributors were willing to take us," Rahn explains. "Peters International took us because they liked Deuter. Barry Kobrin's Important Records was another, and the third was called Greenworld, in Los Angeles. They were responsible for our early success in the U.S." (In fact, the buyer for Greenworld was Paul Marotta, who would eventually become a key player in the growth of Kuckuck/Celestial Harmonies in the 1980s before moving on to head New World Records.) By 1980, Rahn had taken a home in Connecticut and was working on both sides of the Atlantic. Celestial Harmonies was set up to distribute Kuckuck releases in the States, and soon became a label itself. The chosen name seemed to reflect the spirit of the times, virtually symbolizing 'New Age' connotations; however, few realized that the name was more physical than metaphysical, having been inspired by the 16th century German astronomer Johannes Kepler's theory of the harmony of the spheres ('Weltharmonik').

In April of 1981 Rahn signed a licensing agreement with a Japanese record company that had released some electronic music by a musician named Kitaro. And within three months in late 1981, everything changed.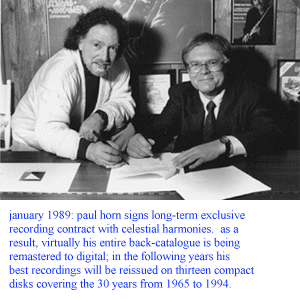 "We made Kitaro famous," Rahn says simply. "It started with his first release, Silk Road. No Japanese artist had ever sold more records than Kitaro." Between Kitaro's phenomenal popularity, the increasing interest in Deuter's music, and Rahn's deal to issue the groundbreaking solo flute record INSIDE THE GREAT PRYAMID (12060-2) by Paul Horn, Kuckuck/Celestial Harmonies saw sales go from $41,000 in 1980 to over one million dollars the next year. Not surprisingly, Deuter, Horn, and Kitaro would become the core of Rahn's catalogue throughout the 1980s.

The next big step was the beginning of the CD era. Eckart Rahn was one of the first to embrace digital technology, and points to his 1981 recording of Spirit of Peace (13008-2) by Popol Vuh's leader and pianist Florian Fricke as the turning point. It is hard to point to any one project as the first-ever digital recording, but this was certainly one of the first. "It was the first time I experienced the magic of digital recording," Rahn recalls. "I was in the studio with engineer Ulrich Kraus and we were listening to the performance in the studio. I said, could we listen to the tape itself? And he said, you are listening to the tape. I couldn't believe it. He switched back and forth between the live sound and the sound from the tape and your ears could not tell them apart." When the digital CD format was introduced in Europe in late 1983 and in the U.S. in 1984, Rahn was ready for it. "No major American label wanted to commit to it. I not only committed to it, I banked the future of the company on it." Albums by Hans Otte (11069-2) and James Newton (13012-2 and 13030-2) (the latter, recorded in Echo Canyon, New Mexico, was the first digital remote recording, produced by Stephen Hill of Hearts of Space) set a new standard for recorded sound, and within two years, as the industry scrambled to find enough pressing plants to make their CDs, Rahn's Celestial Harmonies label was among the very few with a 100% fulfillment rate—"because we made our commitments early," he points out. "We had invested $300-400,000 per year in CDs. It could have ruined us; but we sold every CD we could make."

Celestial Harmonies became one of the leaders in the New Age music field. Additional recordings by R. Carlos Nakai (13024-2 and 13033-2), David Hykes (13010-2 and 14013-2), and Terry Riley (13026-2, 12047-2 and 14018-2) brought the elements of Native American, Central Asian, and world/minimalist styles into the mix. Between 1985 and 1987, Rahn began incorporating the catalogue of Ethan Edgecombe's Fortuna Records from California. This led him to the Celtic harp music of Patrick Ball, the slightly darker electronic sounds of David Parsons and Steve Roach, and Japanese classical music. The impact of this marriage of companies is hard to overstate. Parsons and Roach have become two of Rahn's most important field producers, having traveled the world in the 1990s to bring recordings from Asia, the Middle East, and Australia to the West. And the appearance of ancient musical traditions of the Far East in the catalogue heralded the production of the remarkable boxed sets of non-Western music that have characterized Rahn's recent work.

"Different influences were making themselves felt," Rahn says, "and the next step was to do the unthinkable: move out of the New York City area." In 1988, he chose to leave Connecticut for Tucson, Arizona. "Paul Marotta told me, Tucson's not where you're going—it's where you're from. But I wanted more space, I needed to listen to the quiet, to hear these different influences."

In Tucson, Rahn found himself in a place that had a more Pacific-oriented view, and a very different Hispanic culture from the Cuban/Puerto Rican culture of the East coast. "I started reading Octavio Paz, and developed a new orientation to local music, Mariachi and Native American. So we did that. Two video laser disks on the then-new MonteVideo label reflect this orientation toward the American South-West: THE PETRIFIED FOREST: A PICTURE POEM (19001) and THE WORLD IN OUR EYES: A NATIVE AMERICAN VISION OF CREATION (19002). The next big turning point, for me and the company, was looking out from Tucson toward the west, toward the Pacific. You discover a wide open space, one that was a lot less explored at that time." And so, in 1989 and 1990, Eckart Rahn began traveling to Japan, Taiwan, Hong Kong and Singapore. In June 1992, he brought out the first result of those trips: the 4-CD silk-covered boxed set THE HUGO MASTERS: AN ANTHOLOGY OF CHINESE CLASSICAL MUSIC (19901-2). "At the time, it was the only—and is still the best—Chinese classical compilation with an in-depth explanatory booklet. And it led to recordings in almost all the major Asian countries."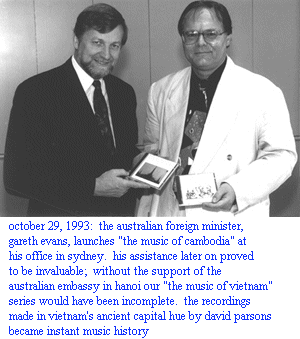 There is something poetic and appropriate about the unplanned, unexpected way Celestial Harmonies grew. Nor has this been lost on Rahn himself. "I never planned it; it just happened," he says. "I always related to improvised music, not notated music. And Asian music is strangely similar to be-bop, which I always loved. It is improvised, without the icons of the Western conductor and composer. The ego drive, the adoration of the icon—these don't exist in Asian music. It's sung or played from the heart each time anew."

This led to a new perspective on the world's music, Western music included. India and China represent over two billion people; add to that the populations of Indonesia and Japan and you have about half of humankind. That was a powerful revelation that changed forever the way Rahn looked at music, and how he chose what projects to pursue. "What we call 'classical' music concerns about ten percent of the world's population, over perhaps the last 500 years. Working with Asian music put it in place; these traditions concern far more people and are thousands of years old. Yet the person who studies Austrian music of the past few centuries is a musicologist, while someone who studies these other classic traditions is almost derogatorily called an ethnomusicologist. A lot of what we've done in the past decade is to set that straight."

Another result of that new perspective is a renewed interest in music that is neither Eastern nor Western. The cross-cultural mysticism of G.I. Gurdjieff & Thomas de Hartmann, the Asian-inspired scores of Peter Michael Hamel, and the 7-CD set of Armenian classical and traditional music (19909-2), are all examples of music at the crossroads of Europe and the East. This of course was not a new interest at all, but it's still ironic that, after moving, working, and traveling for three decades, Eckart Rahn has found himself "back where I started—it's Swinging Macedonia, that music somewhere between East and West."

It is also music between the accepted categories of folk/popular and classical music. Rahn is quick to point to the examples of Australian didjeridu music or the music of Africa as instances where the distinction between these categories does not apply. In Europe, classical music developed around the churches and courts. Vernacular styles were left to the villages and common folk. "In a non-feudal or communal society," he explains, "that difference didn't exist. With the help of Australian producer Michael Atherton, who has explored this in some depth, we've found that neither term, folk or classical, really applies. At some point, you really see that Duke Ellington was right—it's all just music."

The idea that music is something fundamental to human nature, and the notion that the regional differences between the world's musics are ultimately fairly minor, is borne out the more one listens to the music of the world. "Travel," says Eckart Rahn, "is where you get your culture. I've averaged two trips around the world per year. I've visited over 30 countries myself, and we've recorded projects in over 40." Many of those projects represented countries and traditions that were previously obscure, or in some cases completely unknown. The industry, for example, has recently released a wealth of African music. But Celestial Harmonies has made only a few, largely acoustic contributions to this particular field, including the Takadja projects, preferring instead to work on less familiar terrain. THE MUSIC OF CAMBODIA, VOLUME ONE: 9 GONG GAMELAN (13074-2), for example, brought the sounds of the ancient Khmer Empire as preserved by the rice farmers near Angkor Wat to Western listeners for the first time. The same can be said for the rare and precious recordings from Vietnam's ancient capital, Hue.

As interest in 'world music' has increased in recent years, Celestial Harmonies has stubbornly chosen to produce recordings that are not in the mainstream. This has included a series of successful compilations of Western classical music (it is one of the world's great classical traditions, after all) as well as a groundbreaking series of recordings of the music of German composer Carl Orff (13104-2, 13105-2 and 13106-2) and an awesome recording of Munich's new cathedral organ (13109-2). All of this makes Celestial Harmonies a difficult company to pin down stylistically. "Westerners seem to need to pigeonhole things," muses Rahn. "We've always done things in the twilight—neither this nor that but sometimes both together—and created our own space."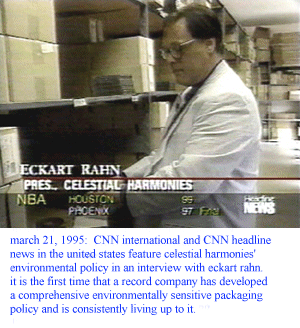 Celestial Harmonies has also created an environmental policy that sets the standard for an industry that has blithely ignored the consequences of its enormous use of plastics and paper. Eckart Rahn is perhaps as proud of his environmental stance as he is of the recorded catalogue he has produced. In 1992, Celestial Harmonies became the first record company to have an Environmental Policy and stick to it. Rahn lists three main facets in that policy:

1. Reduce the amount of plastic used. Rahn pioneered the use of the duobox, a CD package capable of holding two CDs in less plastic than a single conventional jewel box and the use of a slim-line box (commonly used for CD singles) for full-length recordings.

2. 100% recycled paper. "This is still unique," he points out. "No other company of any recognizable volume does it. I would invite Sony, Polygram, and the others to follow us, because the industry has a strong influence and this would send a strong message to young people throughout the world." In some cases, the look and feel of recycled paper, rougher and earthier than conventional paper, can actually add to the packaging. The textured paper of David Hudson's WOOLUNDA: TEN SOLOS FOR DIDGERIDOO (13071-2), for example, adds to the CD's image of antiquity and tradition far more than the slick paper most recordings use.

3. Use of non-toxic inks. "German environmental regulations have helped," Rahn says, "because they're very strict. We print exclusively now with a responsible company there."

The message is simple. "Responsible behaviour doesn't mean less fun," he says. All of Celestial Harmonies' artists have supported the policy, and Rahn feels that it has even helped with their professional relationships. "Artists see that we are considerate of this, and it demonstrates that we can be considerate of other needs as well."

Under Eckart Rahn's guidance, Celestial Harmonies has become a record label that is about more than just music. The environment is obviously a key element, but so is the man-made environment. Rahn is an avid student of architecture, which, after all, is simply the art of humans adapting, and adapting to, the environs in which they live. From the beginnings of recorded history, music has grown up with architecture. Virtually every sacred music tradition had its roots in the temples and churches of the world's myriad belief systems; nearly every "classical" music tradition flourished and was nurtured in the regional courts and meeting halls. Recognizing this, Rahn finds the concept of producing music in a sterile, soundproofed recording studio to be pure anathema. Since his decision to reissue Paul Horn's classic recordings INSIDE THE GREAT PYRAMID (12060-2) and INSIDE THE TAJ MAHAL (11062-2), he has increasingly sought to record music in any space but a recording studio. The results have been impressive: numerous recordings by the likes of Paul Horn, David Hykes, and Franz Lehrndorfer (13090-2 and 13109-2) in some of the world's great cathedrals and churches; the James Newton album recorded in Echo Canyon (13010-2) ("God's architecture," Rahn calls it); the remarkable first volume of The Music of Cambodia (13074-2), recorded in the Angkor Wat temple complex; the Nagorno-Karabakh (13121-2) volume in The Music of Armenia, recorded in the ruined churches and music school of the wartorn capitol of that region. The list goes on. "This music was meant to be heard in these spaces," Rahn points out. "To take these works out of their natural environment and put them in a studio really diminishes them."

Music, environment, architecture—these are not separate worlds, but are rather parts of a single, global expression. Rahn does not believe you can effectively communicate a music without communicating something about the environment from which it comes. "Much of the world's greatest music is sacred, or at least spiritual music. When possible, we try to record that music in a sacred space. Classical music we'll try to record in a concert hall. I would rather record outdoors than in a studio."

So the environmental policies, and the quest to record music outside the studio, are not the whims of an industry eccentric, but part of an organic approach to the whole question of doing work that has meaning—of making a contribution to our understanding of other cultures, and perhaps our own. "If you want to understand another culture," Rahn once said in a radio interview, "its music is a good place to start. If you want to understand that music, though, you need to understand its context. Presenting that is a great responsibility, and it is one we take quite seriously."

The diverse and evocative spaces used in so many Celestial Harmonies productions is also quite in keeping with the label's diversity of music and packaging. The absence of a slick, consistent label image, Rahn concedes, hurts in the short run; "but in the long term, especially if you want artistic variety, it actually helps." If Celestial Harmonies has a style, it would be that it doesn't have one. In an industry full of corporate images, designer graphics, and restricted catalogues, Rahn has intentionally varied the packaging and the design of his releases to suit the music. But, he suggests, there is a common sensibility: "you want to do something worthwhile, and something that hasn't been done too much already. One of the blessings of working with Asian music in the past decade has been the joy and sense of adventure of working in areas you are unfamiliar with." Such adventures often require a substantial investment of time and money. The current project, THE MUSIC OF ISLAM (19907-2), has taken four years of work and over a quarter of a million dollars. But the result is a collection of 17 CDs, all to be released in a polished wooden box, complete with historical notes, musical annotations, examples of Islamic art and calligraphy. Small wonder, then, that one prominent Australian newspaper referred to Eckart Rahn as the "Indiana Jones of music."

"Style is an adventure," he says. "You can't be restricted in your style because you don't know what's going to happen next." One result of this has been Celestial Harmonies' evolution into a company which is not large commercially but which has a large impact on a loyal, core audience. "If our market share is relatively tiny, well, that's a choice that we've made. It may be comfortably under 1% of the market, but it's a noticeable contribution to some people, and that's what's important. We are recording music for people to whom music is much more than entertainment."

The open door - it's a wonderful image: a metaphor for opportunity, fortune, for a new beginning. Sometimes though, it's just an open door. It was a literal open door that started this journey over 30 years ago; but the result after three decades is a metaphorical door, opening onto worlds of sound and glimpses of faraway cultures for anyone willing to enter.


John Schaefer
(based on conversations with Eckart Rahn in 1997)